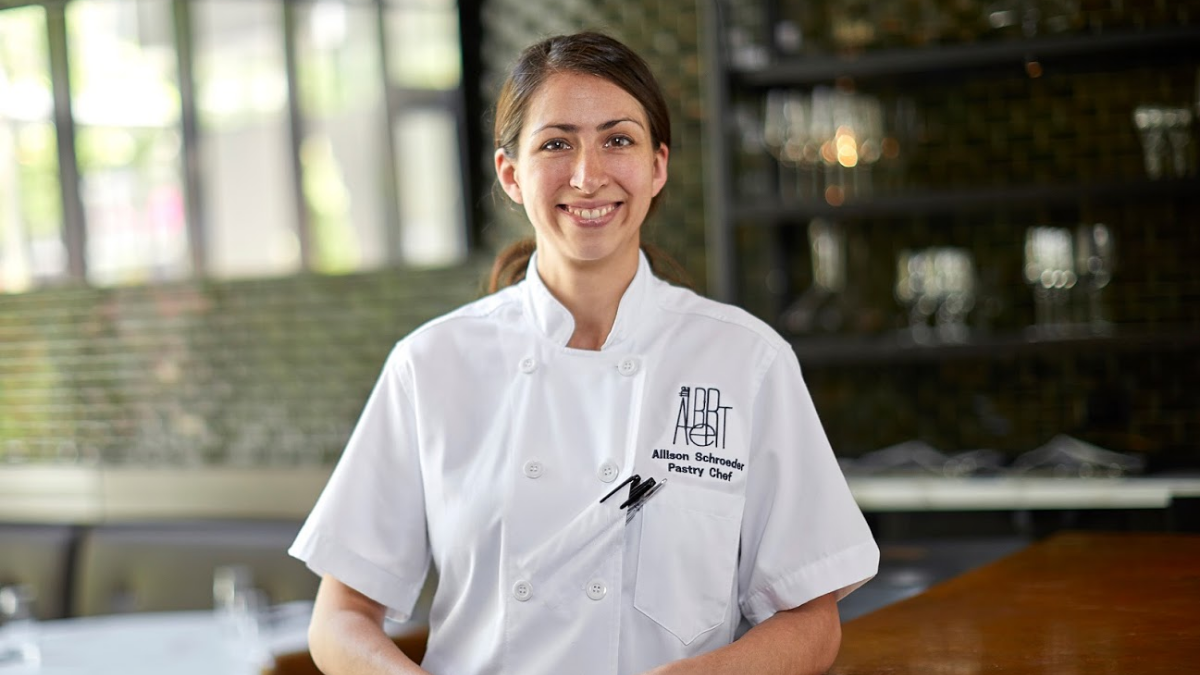 Pastry Chef Allison Schroeder Talks Dessert Trends
Growing up, Allison Schroeder, the Albert's Pastry Chef, enjoyed baking with her mom and grandma. They'd make bread, cookies, cakes, and other sweet treats. Schroeder confessed that she didn't think about cooking as a career until much later in life. When she finally realized that working in an office setting wasn't for her, she enrolled in the Illinois Institute of Art-Chicago for culinary school. Since she graduated from culinary school, she has been working in Chicago restaurants including Sixteen, Blackbird, and Girl and the Goat. 
Schroeder spoke with us about trending foods, her go-to sweets, and the Albert's dessert menu. 
Q: What ingredients or food trends are you currently inspired by? 
Allison Schroeder: I love that crunchy foods and cuisine with different textures are trending right now. I always like to think about the texture of a dish in addition to the flavors. I've had dukkah—an Egyptian condiment containing various nuts, seeds, and spices—on the menu for a while now and I'm still digging it.  
Q: What's your go-to sweet when you don't have a lot of time? 
AS: I would say cookies are my go-to when I don't have a lot of time. I honestly love a good old chocolate chip cookie. Actually, I mostly love the dough, which I lovingly call chocolate chip cookie "tar-tar." Mostly, I find that I make sugar cookies. My daughter loves to help make them and they're fun for her to decorate too! 
Q: What's your go-to sweet when you have more time?
AS: If I have the time, I usually make layered cakes. Generally, I make chocolate cake with chocolate filling and buttercream. I'm starting to allow my daughter to help me out with the decorating too. 
Q: What's in store for the Albert's dessert menu in the upcoming months?
AS: Even though we're not quite there yet, I'm definitely starting to think about spring! I'm looking forward to creating a rhubarb dessert. In my opinion, rhubarb desserts signal spring and are a great way to celebrate the beginnings of the season. In the meantime, I'll be updating the Albert's winter menu to include seasonal citrus flavors and maybe even a variety of tropical fruits. 
Dining at the Albert
Dining at the Albert is a singularly unique experience. Surrounded by books lining the walls and remarkable art, you'll be able to sample Chef Schroeder's dessert menu, which includes items like Dukkah and Banana Ice Cream and Chocolate Chestnut Semifreddo. Don't forget to order an entrée—our breakfast, lunch, and dinner menus have distinctive, creative, and seasonal dishes that will delight and surprise your taste buds. We also offer fine wine selections to create an unparalleled culinary experience. 
To make a reservation at the Albert, please visit our reservations page.